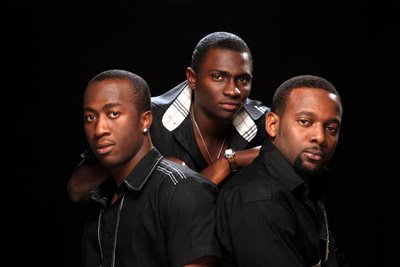 By now, we've all poured over, ruminated on and argued about the incessant year-end Best Of lists, but overlooked are the impending horrors that the music industry has secretly conspired to inflict upon us during these distracting times. Only by scouring the depraved depths of major label press releases and gluing one's ear to the money grubbing grapevine of gratuitous drivel does the warning become clear. On the basis and criteria of content and commercial success, Here are the 12 + 1 Worst Albums of 2009, the oncoming detritus to avoid.
OBIWON – THE REBIRTH
Obiwon's The Rebirth is laced with R&B-tinged melodies and lame hooks. The production overshadows rhymes on most of the album. At the end of the day, we're left with an album that's listenable but lacking in lyrical firepower. His comeback effort fell short of expectations; the whole album lacked the same firepower that graced his earlier discs. He then goes ahead to shower the album with some of the most unbecoming invectives like "this is a muted disaster", "poorly thought-out tracks", "this is a lazy effort" and "the choruses are nothing but jokes", among other sardonic remarks.
STEEL – MIRAGE
Steel, an artiste who shares his surname with one of the hardest metals known to man, Steel's image is ironically as soft as cotton candy. Armed with a Mohawk and a bucket full of lip gloss, Steel first caught our attention with the lead single 'Omoge'. Steel exhibited evidence of some lyrical ability and a decent sense of humour in tow – 'Come Vero… go ask Caro… She go say I sweet pass even claro', but he also inadvertently shows us one other thing and that is singing isn't one of his strong points. His voice isn't terrible by any means but I couldn't help but notice that the sultry dedication to his sweetheart 'Derinsola' and the I-don't-give-a-**** -if-you-leave-me 'Replacement', wouldn't have sounded so lifeless had a Djinee or an Obiwon been singing them instead. It gets a lot worse for Steel when the penmanship that made 'Omoge' a moderate hit mysteriously disappears on the rest of 'Mirage'. He hasn't done anywhere near enough to capture the heart of the average Nigerian female, doesn't Steel think dedicating an entire song and eventual single to 'South African Girls' was far too audacity. If confidence alone could make an album enjoyable, 'Mirage' would have been inline to be considered a classic, but it can't. Steel's vocal performance is questionable at best and his light weight lyrical ability conspires to produce one too many songs on 'Mirage' of filler-quality. In addition, with an abundance of supportive cast on his début album, the jury is still out on the man's own ability.
OLU MAINTAIN – WITH ALL DUE RESPECT, PRESS PLAY
Having experienced his greatest post-Maintain chart success either being assisted (Yahoozee, Jedi Jedi) or playing assistant (Big Boy), Olu Maintain wasn't one of them and thankfully, he doesn't pretend to be. Introducing Olu's newest money-making team – Kentro World. Kentro Crew consists of four young men namely Olu's Hausa Lieutenant Bondo Krazzy, the Mayor of London Da Folz, Olu-badan DJ Freaky T and the Prime Minister Flo. Right from his days as one half of the popular group Maintain, you'd have to have an above decent sense of humour in order to fully enjoy Mr. Olu's music; 'With All Due Respects Press Play' (WADRPP) is no different. But there are times when that sense of humour goes left, like on the meaningless IQ-reducing 'Tomato'. While 'Lady' featuring the uber-talented Femi Kuti bore so much potential that when it ultimately disappointed it did so in the most painful fashion. As for 'Arab Money', I guess it's one of those songs only the artiste himself can fully explain what was going through his mind when he penned the lyrics. At first glance, it's easy to write off Kentro crew as a bunch of Olu's friends who just happened to have stumbled into one or two of his recording sessions but if you listen closely, you may notice some hints of talent. The result is an album that has several bright spots but ultimately not nearly enough to save it from being sonically disorganized and lacking a true identity. After a few minutes listening to '(WADRPP)', a few things are apparent – Bondo's charisma is undeniable and DJ Freaky T provides fairly good lyrical humour and together, they balance out the uninspiring Da Folz and Flo who sound lost and in desperate need of artistic direction. It's ironic that on a group effort where he's supposed to be introducing his crew, Olu's image looms so large throughout the album that he tucks each of his artistes firmly behind his shadow. If Olu hopes to release any solo albums from the members of Kentro crew immediately after WADRPP, he should be fully prepared for a disappointing outcome because with the exception of himself, we simply don't know who Kentro really are, As a matter of fact, kentro family really need another introduction.
TERRY G – GINJAH UR SWAGGA (SEASON 1)
This album contains exactly two club hit song – "Halleluyah" and "Free Madness", a song that will likely end up being banned in Nigeria over the airwaves due to its message. I don't always agree with the criteria, with which media officials decide upon what records get banned, but this one seems like an easy one. The album did sound boring and monotonous after a while; a classic example of too much of something is not good. On the flip side, the album does contain some OK joints like "Ojukokoro", "Fall in love", "Bad Belle", "Wine dey go" and "Bia Nulo", which is a sample of Onyeka Onwenu's version. We are to expect a season 2, God help us!
P SQUARE – DANGER
The album sold 2million copies in first two weeks of release; it's just hearsay because that figure cannot be confirmed. Most of the tracks on this album were produced by Paul Okoye for Rudeboy productions except 'E no easy' produced by J martins,' super fans' by frenzy, 'break it' by Peter Okoye. This guys sure knows about beat from their dance track to their love songs. Even though this track is doing well in the market [nothing compared to their previous effort] but it remains the worst album from the duo. The video of danger reminded me of "Busta rhymes dangerous". The beat and the tune of the track titled "who dey here" sounds like it is the remix of "Maino's" hit single "all the above". One would also notice that the album or their albums all sound so much alike [tonnes of music remaking], it's like they found a comfort zone and they just decided to stay there. 'Danger' is a creatively written song in its right and insanely shot video. Well, we have only seen the video of danger and they didn't dance at all so lets still keep our fingers crossed may be and just maybe they are tired of copying Michael Jackson's dance moves.
STYL PLUS – BACK AND BETTER
After a short hiatus, abuja-based super group Styl Plus have quietly released their sophomore album, 'Back & Better'. Styl-Plus are a breath of fresh air. First off, the Mekoyo produced 'four years' highlights the group's struggle to remain together in this turbulent industry. But it's on tracks like 'I no want trouble', 'if you go', and 'i don tire' that the group show their superior song-writing The group return to the infectious Yoruba hooks that made them popular in the first place. However, the experimental 'candy man' sounds drab while the Big Lo produced 'still gonna love you' sounds rushed and both songs aren't of the same quality as the rest of the album. In conclusion, the group still lack the power to break into the music scene as they did back then with 'Olufunmi', which gain international recognition. Styl Plus came back but not better. They have a new album 'Unbreakable' in stores – what do you think of the album?
ID CABASSA – ID ENTITY
ID makes ID- entity semi-enjoyable by overfilling it with real musicians, a record breaking 24 of them in total, and together they state a better case for Cabasa's relatively virgin singing career. The only problem with inviting the entire population of Akoka and environs to IDentity is that, besides his production which was consistent to a good margin, ID loses the ability to determine the true quality of his own album. As a result, the outcome of IDentity is left squarely in the hands of its collaborators. ID takes a leaf from his friend 9ice's book of proverbs and recites idioms and wise sayings at the slightest of provocations. Fair enough, these remixes became mere skits but it actually gets you wondering how much of this album actually ID's idea was. To call this album his IDentity would be misleading. One can't tell Cabassa's true style of music. More fitting titles could have been 'Akoka United', 'Coded Tunes compilation CD' or 'ID Cabasa & Friends'
JIM IYKE – WHO AM I
James Ikechukwu Esomugha is the undoubtedly one of the most controversial men to ever hit the big screen; The danger in hyping up a new artist so much is that people tend to expect perfection right off the bat. Jim wasn't helped by the fact that he somehow contrived to do something no other Homo Sapient had done before him and that was to make a song with Tuface on it sound mediocre.If you persevered through that gibberish of an Intro, you would find an interesting listen in 'Jimiykemania'. The only problem is if you take away the ever-impressive Sound Sultan and remove the deft board work from Puffy T, you are left with emcee Jim dropping lyrical gems such as 'I'm smooth like a butterfly, sting like a dragon fly'. Really, Jim? Didn't know Dragon flies stung people. The ironic thing is that one of the album's weakest songs is also its lead single 'Who Am I?' featuring 2 Baba. As compensation for a poor showing however, Jim absolutely wows on the Mike Word-assisted 'Born to do this'. Take Asher Roth, for instance. Roth gathered reams upon reams of hype prior to his official debut. Music mags dubbed him the "next big thing." Hip-hop media crowned him the "white Lupe Fiasco." That none of this is true doesn't necessarily mean Roth isn't worth his weight. Asher Roth's problem, nonetheless you can quote me anywhere; with the probable exception of Osufia, this album is the most impressive crossover effort from a Nollywood actor yet. While it says a lot about Jim's 'ability', it also has a lot to do with the bar being set so low by mediocre albums from Genevieve Nnaji, Omotola and everybody else in between. As much as I may hate to admit it, Jim has some music potential; he'll just need someone to coach him on how to convert this potential into a solid album. Oh, and as for whom Jim Iyke truly is, I still haven't got the slightest clue.
KEL – THE INVESTMENT
Kel writes, raps, sings and her looks is shockingly hot or make that was. As a new comer, nearly 97 percent of her album had guest appearances but I'll pre-empt any criticisms by saying that the guest appearances make the album an exceptional debut for the Capital Hill artiste. On the last track of the album, Kel decided to auto-tuned that the digital pitch-correction device overshadows the message of the song. The T-Pain robot voice is so annoying that one could easily recommend Jay Z "D.O.A. (Death of Auto-Tune)" to Miss Kel. Ill Bliss took control of the track with his not too complex punch lines, verbal wordplay, name dropping, and ability to grab-attention with his emphasizing voice. Kel wasn't intimidated at all by Ill Bliss's wordplay as she was just "packing what dudes are lacking". Her first single, Waa wa Alright enjoyed a commercial boost and became an instant club hit. Her charming spitfire comes the familiar baggage – syrupy hooks and Headache-inducing dance beats. Some of the collaborations here could have easily been generated by randomly feeding names of high-profile artists through a hit-making machine.
9ICE – TRADITION
Remains one of Nigeria's most original music makers as he is never short of his trademark proverbs, idioms and wise sayings. Tradition had a fair amount of it but it didn't match up a follow up – probably we should blame the standard the 'Gongo aso' album set. A collaboration with Asa and Nneka should have served as but the outcome was more or less known. The question is what happened
BIGIANO – SHAYO MASTER
In Shayo Master [who is ever a master drunkard?], The beats are ful but Bigiano wanders through an extensive array of song topics so he seldom gets boring. Bigiano brought the catchiest choruses when he does it in Yoruba but overall his song writing skills is not to be bragged about. Listen to 'No lele' and 'people suffering' then we also battle with the packaging,the track list on the CD sleeve of the album is poorly arranged so tracks on the album's playlist don't match the ones on the CD's track list.
SHANK – KING KONG
Shank was to introduce Nigeria to an upscale version of dancehall [nothing compared to Timaya and Terry G] with his single 'julie' but it fell flat. Hence King kong seem to be a 'desperate ' attempt at recreating his club appeal. D'banj makes an appearance on a track that saw the only chemistry in the collaborations on the album. Akon and Shank on 'shawty' lack chemistry. A reviewer says "Shank is simply too pop for traditional reggae and too reggae for traditional pop" of the album
we have a 13th album and that's:
LAGBAJA – SHARP SHARP AND PARADISE
Lagbaja's least celebrated work is the double CD – sharp sharp and paradise. Did Lagbaja decline with with music making artistry? no, that's not in question but The music audience was not ready for Lagbaja's new album. The very fault if the masked one retaining the afrocentric touch in an uncommon music genre – Jazz, as some would convenient want to classify Lagbja's music. The review was a 'conscious international effort with delibrate commercial pull for the home front.' but Lagbaja would agree that the buzz probably blame it on his publicist or the media
Well we hope they are gonna make a full come back with a better hit for their next album, meanwhile we are expecting A2 BrothazZ (Afro-Asian BrothazZ) album "Best of Both Worlds" to hit the Market as soon as it drops, i was opportuned to listed to the tracks and i must say i am very impressed with all what i heared, these guys are talented, all their track are hits on that album, i can't wait for it to drop... am gonna buy mine for me and my family, coz its worth the effort.
WPENT